Here about ECC? Lets find out what is ECC in Infosys Mysore Campus.
ECC is an employee care center. In general terms, it can be described as hostels. ECC is an inhouse name given to hostels. Any kind of stay within the boundaries of the Infosys campus takes place in ECC.
In some situations, ECC's can also be located outside the campus, but facilities and management will be done by Infosys. Hence ECC is the term referred to as hostels managed by Infosys for employees and trainees.
During the training period, trainees will be living in ECC's of Infosys.
Food facilities In Infosys Mysore Campus
1) ECC in Infosys Mysore campus
Infosys trainees will be living in hostels which are called as ECC. ECC is known as Employee care center.
It is a mandatory and paid services for trainess. Cost of ECC living in sharing basis is 3500/ month.
Every month rent will be deducted from salary account automatically.
2) Room facilities In ECC #Accommodation
Firstly, you will get, Bed, chair, restroom, big mirror, cupboard, safe locker, watch, LCD TV
Additionally Fan, AC, hot water in morning and evening will also be available.
Furthermore, few more things like study table, drawer, headlamp, head watch, good knight, Telephone for calling room services and emergencies, dustbin, etc.
In addition to above, you will get infosys bottle, cup, kettle, milk power packets, tea bags, coffe bags etc.
Also, few water cooler are placed on each floor.
3) Food facilities near ECC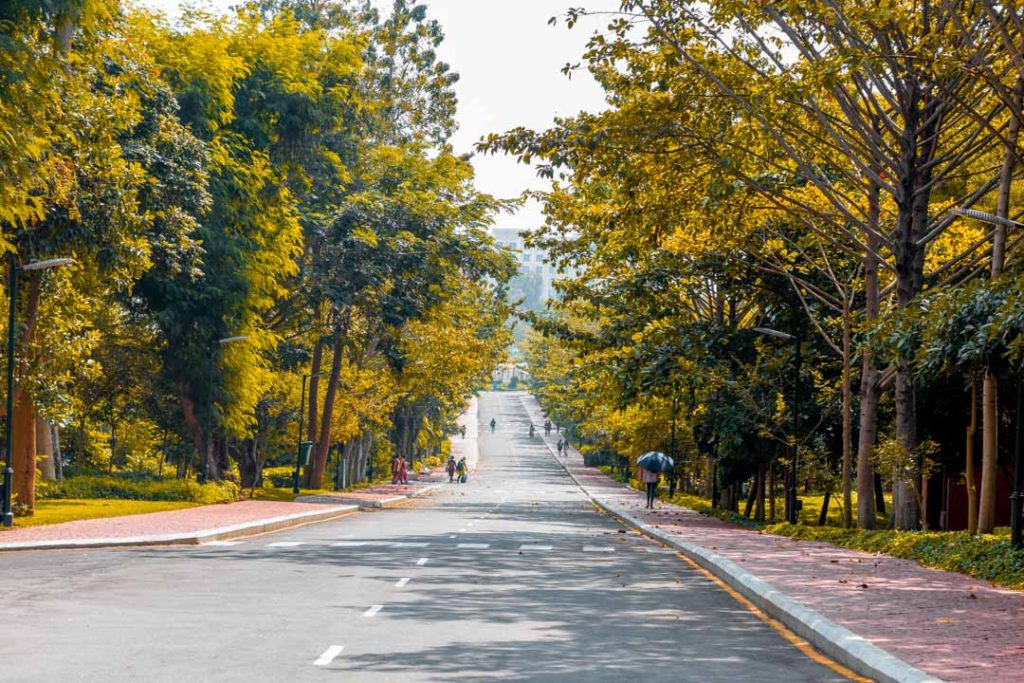 As of now no food facilities are provided in ECC rooms. But you can order pizza which will be delivered to your rooms.
See, for regular meals you have to go to nearest food court.
Only milk packets and tea/coffee packets will be provided in the room.
Earlier, Amoeba food court was the nearst food court for boys. For girls OASIS is the nearest food court.
Now, Mostly everyone goes to Oasis for breakfast and dinner.
Some prefer Maitri food court which is near to gueshouses.
4) How to go to ECC rooms in Infosys Mysore Campus
Firstly, it all depends on the location of your ECC rooms.
If you ecc rooms are near OASIS food court or maitri food courts, then its easy to remember.
But, if your ECC building is 93 or 94 then its a bit tricky to remember it.
You will get confuse in starting days.
Furthermore, To help you, there are boards placed everywhere near ECCs. These boards will give you direction to your ECC.
Secondly, you can use security guards for direction.
On first day, a mini bus will take you to the ecc rooms. Moreover, on the last day and pickup auto will come which will pick luggage in group.
Additionally, bicycles are available all around ECC's. If you want to get a cycle, make sure to get up early in the morning.
FAQ about ECC in Mysore Campus
Read FAQS on quora related to mysore ECCs
Will I get hosekeeping facilities in rooms
How to get non sharing ECC rooms
What is the cost for non-sharing rooms
Can anybody tell me how much I have to pay for sharing basis
Will food provided along with accommodation in ECC
Is fridge or water cooler available inside ECC rooms
Can't I smoke in ECC rooms? What about using laptops.
This was all about ECC's in mysore Campus. Please let me know your doubts below in the comment box.
And I will catch you guyz in the next post. Peace.
Tags- Accommodation, ECC, ECC 79, Hostel, housekeeping, infosys mysore, Infosys mysore campus