Hi Freshers, let's talk about Infosys Mysore campus accommodation. The place where you will live for 3 months or 6 months? This post will give all information about accommodation.
Quick Info related to accommodation
In infosys mysore, accommodation will be provided inside the campus
Accoommodation hostels are called as ECC ( Employee care center)
In total, there are 91 ECC building inside Infosys Mysore campus.
You will get your accommodation keys 1 day prior to date of joining
ECCs are divided based on gender. Entry to opposite gender ECC is strictly restricted.
There are almost all the facilities available inside ECC's
Obviously, the accommodation facility is not free. You have to pay charges for ECC rooms
Food facilities will be not included in accommodation cost.
Rooms are pretty big. They can be rated with 3 star.
Currently, rooms are given on a sharing basis. Read below for more information.
Here is a ECC room tour video.
Firstly, Hostel accommodation here in Infosys Mysore is divided based on gender. There is separate accommodation for boys and girls.
Accommodation for boys
Boys ECC is built near the western northern boundaries of the campus. For accommodation, boys have to pay 3500. This charge is for a sharing basis.
Earlier rooms were allocated based on non sharing basis.
Surprisingly, non sharing basis rooms costs 4500 rupess per month
By default, you will get a fully furnished room. In addition, you will see some Infosys branded things like a mug, bottle, towel, etc.
Housekeeping facilities are also available with accommodation.
Accommodation for girls.
Mostly accommodation rooms i.e. their ECC are near the center of the ECC hub. Few girls ECC's are surrounded by boys ECC.
There is not much different between room of girls and boys.
Luckily, few rooms have smart TV. But there is no time to watch anything.
Guest houses keep sanitary pads as default.
Infosys Mysore campus accommodation: Charges or fee
For accommodation compulsorily you have to pay 3500 rupees. Anyone can't opt to live outside the campus during their training.
If rooms in ecc are allocated on sharing basis you will pay 3500 rupees. Whereas if rooms allocated on non sharing basis then it costs 4500 rupees.
Room charges will be deducted from salary.
If you do any damage in room during your stay, it will also be recovred from your salary.
All the property inside the room belongs to Infosys. If you plan to take out cups or towel, the relavent charges will be recovered from salary.
For keeping your money safe you will be given a locker.
A separate cupboard will be given to both trainees.
If rooms are based on non sharing basis then, every item in the room will be double exept washroom.
Infosys Mysore campus accommodation: Parents/ Visitors Policy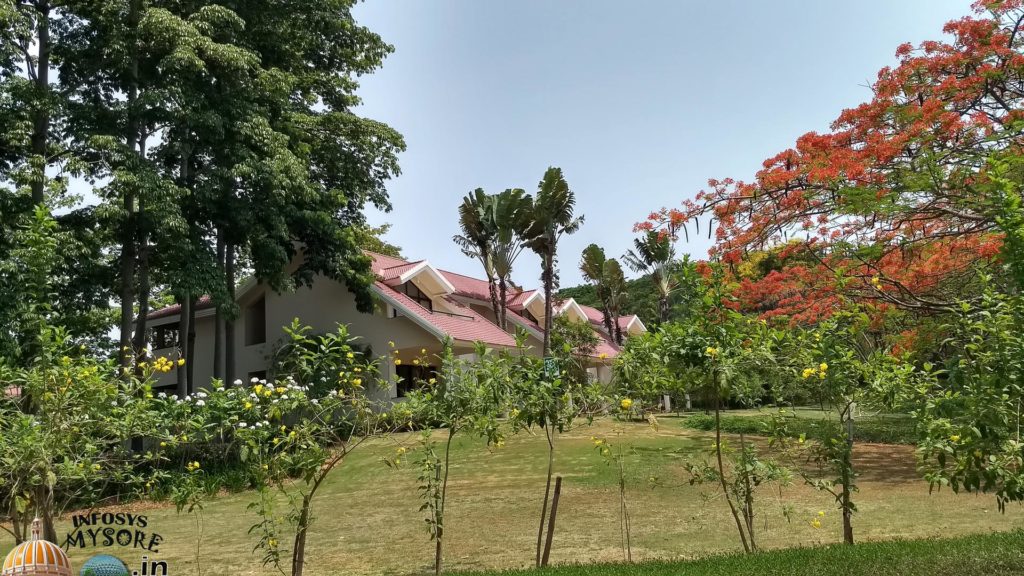 First read how to bring parents in Infosys Mysore campus.
Inside mysore campus, several guests houses are built for visitors.
You will see all of them from maitri food court.
These guests houses are specially for visitors, parents, and family.
If you want to take out your family inside the mysoer campus then you can book accommodation for them.
Additionally, room are slightly better and bigger than general ECC roomes given to trainnees.
In addition IRON BOX will be given inside the room.
Also, You will get housekeeping facility. In the room you be given all the basic amenities except tap for drinking water.
Drinking water will be available on ground floor of each geust house.
TV, water bottle, cuppobord, locker, towel, kettel, milk powder, coffee packets and tea bags are made available inside the tea.
Cost for accommodation for parents is 950 ruppees.
This is general cost for visitor's accommodation in infosys Mysore campus.
Whereas trainees have to pay much lesser amount as compared to visitor.
Infosys Mysore campus accommodation: do's and dont's : Guest House Rules
Dont
Don't break anything inside the room, damages will be recovered from salary.
Bringing alcohol inside campus and rooms is strictly prohibited.
Entering into girl or boys i.e. inside oppose genders hostel is punishable
Do not raise the false panic alarm.
Ringing the bell of other rooms without any reason and running away is not allowed.
Don't write anything on the walls of the ECC rooms.
Turn off the water taps after taking bath.
Don't put anything in circuit breaker except the key panel
Do.
Now you can bring your laptop, as the laptop is now allowed in Infosys Mysore campus, here is why.
Towels blanket etc will be provided inside the room hence you can avoid bringing it
Additionally, you will get soap, Colgate and other basic amenities inside the campus. Hence you can avoid bringing them as well.
Inhouse hostel (ECC) accommodation: Trainees vs Employees
Trainees get accomodation for getting trained in infosys mysore campus. Whereas Emplyoees get accommodation for several diferent reasons.
DC transfer ( 7 days free stay)
Project work ( For duration by managers and its free)
Independent accommodation (chargable)
While any natural disaster (free accommodation although this is very rare)
Generally, trainees will give accommodation in 8 story building and nearby guest houses.
Wheareas employees will be given accommdation in ECC 14.
Rent recovery will be done from salary for both trainees and employee.
Additionally, employees can pay direclty while doing checkout.
Trainees get aco
Steps to book accommodation in Infosys Mysore campus/ Guest House booking
If you are a trainee, than you don't have to book accommodatin.
You will get keys of your rooms one day before joining.
Just show your joining letter and get entry inside the campus. A bus will take you to the GEC 2. Over there you will get your temp ID card and Keys to your rooms.
For employees, booking ecc is very simple task.
Go to Sparsh (internal portal in infosys). Book your accommodation by giving all the required detail.
It takes only 5 minutes.
Booking accommodation for visitors has to be done month before the actual date.
You have to plan your visit, one month in advance, and apply for accommodation.
Immediate accommodation request will be not accepted for visitors.
If anyone wants to book an accommodation for project related work then it can be accepted.
Room charges are based on night spent in the room.
Pro tip for short visits.
Day 1 – Do check in on 9-10AM
Day 2- Do checkout on after 8 PM.
You will get total 2 days and you will pay for only 1 day. This is because you only spent on night in ECC. There is no 24 hrs policy.
Frequently asked questions about accommodation in Infosys Mysore Campus
Coming soon! Drop your questions related to accommodation.
Food facilities with accommodation
Read all about food facilities in Infosys Mysore Campus
Know everything about all food courts in Infosys Mysore campus
You will get instant tea/coffe material inside room. Additionally, one water bottle with infosys branded cup. This is all you will get ECC rooms.
You have to go to nearby fCs for breakfast, lunch and dinner.
Earliers, Amoeba FC was the nearest FC to boys accommodation.
Currently, Oasis is the dinning hub in Infosys mysore campus. Oasis food court runs for breakfast and dinner.
As both girls and boys visit this fc for food, Oasis also emerged as a hangout zone.
Tags: Accommodation, ECC, Infosys mysore campus