There is a total of 10 food courts in Infosys Mysore Campus. Additionally, Campus has one buffet based restaurant called "Floating restaurant".
It should be noted that a few food courts are comparatively smaller. And few of them run rarely.
Hence, to keep up to date with all the food courts in Infosys Mysore, let's start the guide
Below is the context overview of all the food courts in Infosys Mysore, you can jump to any specific food court (FC) directly.
Context
All the food courts in Infosys Mysore Campus

Fiesta Food Court
Magna Food Court
Arena Food Court
Enroute Food Court
Oasis Food Court
Maitri Food Court
Vista Food Court
Amoeba Food Court
Multiplex Food Court
Gazeebo Food Court
Floating Restaurant

A common note for all food courts in Infosys Mysore
FAQs on Food courts in Infosys Mysore Campus
Infosys Mysore Food Court App
1) Listing All the food courts In Infosys Mysore Campus
1) Fiesta Food Court
Fiest FC is the first FC that you will ever encounter in Mysore Campus. It is near to gate number 2. You will get breakfast, lunch, and dinner here.
Generally, Everyone can visit this Food court. Additionally, it is also referred to as Day 0 food court.
Firstly, On Day 0 when you will come here to Infosys Mysore campus for the first time, you can go to Fiest FC along with your parents.
The first day (Day 0): Parents are not allowed beyond Fiesta. As a result, you only have to take them to the fiesta food court.
Fiest Food court is the multilevel food court. Generally, meals get served along with few other items are served on the ground floor. On the first floor, you will get verities from different vendors.
This FC has a Dominos outlet in it. Additionally, You can get fruit juices, south Indian, north Indian cuisine as well.
Moreover, this food court has ATM, so no worries about getting cash. If you forgot to take cash before going out of campus, and you are now at gate 2 with no cash, well come here and get few.
Not only this food court has these facilities but also it has nice viewpoints. You can get some good photos here as well.
Although at lunchtime this FC often get overcrowded as employees, trainees and visitors come here for lunch.
Highlights
Easily accessible
Near the main gate
Dominos + ATM
Foto friendly and with additional open roof arrangement
Average food taste and price
Overcrowded
Runs 24*7
Usual wait time before the first byte: 10-15 minutes (Meals)
2) Magna Food Court
The Magna food court is one of the important food courts in Infosys Mysore Campus. It is built inside GEC 2.
Although anyone can go to any food court, this food court is mainly built for trainees. This is the only food court which is nearest to classrooms.
Infosys Mysore has two GEC (Global Education Centers) which has classrooms in it. For trainees in GEC 2, this is the closest food court. For trainees in GEC 1, they have to take a walk for 5 minutes to this food court.
This one of the largest food courts on campus. In Lunchtime this gets so much overcrowded.
Trainees have to form a queue with at least 30+ people in it. From 12.30 to 1.45 pm is the peak time here.
Firstly, you have to purchase a coupon which has its different line. Secondly, you have to form a queue to take food. Thirdly, you have to wait for a vacant seat to sit on.
Also, sometimes you have to for queue at plate drop area and washbasin area.
Let me tell you, if you don't want to have lunch in this crowded FC I will tell you one different FC.
Highlights
Near to classrooms
Overcrowded at lunch
Wide variety of food and vendors
Usual wait time before the first byte: 15-20 mins (No special order such as Chinese noodles)
3) Arena Food Court: One of the largest food courts of Infosys Mysore campus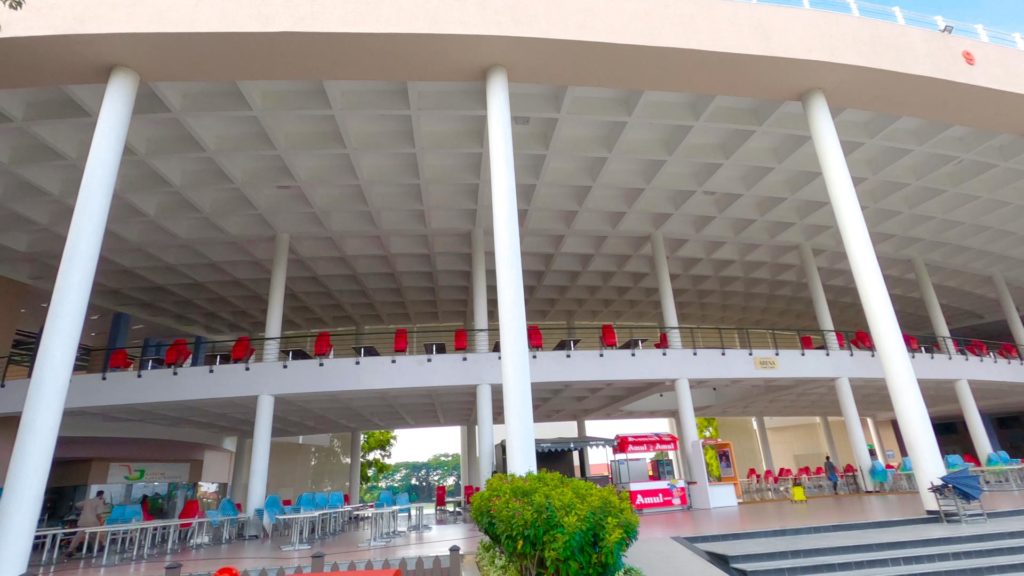 This is the largest food court in Infosys Mysore Campus. The arena food court is Multilevel FC. It is located between the cricket ground and amphitheater.
Apart from providing food, this FC has few utility centers on the ground floor such as the intercity bus booking area.
If you feel Magna is so overcrowded you can come here by walk (additional 5-8 minutes) and can have lunch here.
This food court is airy with no vantilation issues such as Magna or Fiest Food court. The arena food court is open from both ends provides better lighting and fresh air to trainees.
Although there are not many vendors present in this food court. You can get meals, tea/coffee, biryanis(one of the best), juices, and a few other items.
The arena food court is also important when it comes to cultural events in Amphitheater. sometimes arena food court acts as an extended amphitheater. The crowd enjoys the event from the balconies of this theater easily.
If you are roaming inside the campus, you can come here and relax a bit. Also, this is a photo-friendly food court with natural lighting conditions. Also, the amphitheater behind this FC will give you a nice background.
Highlights:
Largest food court
A bit away from classrooms and the main gate
No crowd at peak time (very rare)
Extended amphitheater
Less food variety
Food prices are okay
Usual wait time before the first byte: 5-10 minutes
4) Enroute Food Court
The enroute food court is one of the unique food courts in Infosys Mysore campus. It is located near a parking facility (MLPL). Those who come in their personal vehicle can have lunch here.
This food court is very far from the classroom, ECC or main gate. Then to whom is it accessible?
It please note that Enroute food court is built for employees. Although trainees can also come here. It takes almost 15 minutes from the classroom or 20-30 minutes from ECC rooms to this food court.
This food court has utility centers in the basement such as pharmacy etc. Specialist doctor visits here on a weekly basis.
I heart about this food court with the reference of paper dosa. If any time you go to enroute food court make sure to try the paper dosa.
Additionally, you can get meals, live counters, Chinese food, etc. Almost all the vendors make food with good taste.
In peak time this place gets moderately crowded as compared to Magna Food court.
I felt the prices of a few vendors are a little bit high in this food court.
Additionally, this food court has good facilities and tables chairs are also well cleaned. From the ventilation point of view, this food court is moderately ventilated. Although you won't feel this often.
In front of the Enroute food court, there is a large black area when you can relax in the evening.
From the point of the photos, areas around this Food court are also well lit with views.
Highlights:
Especially for employees
Far from classrooms and ECCs
Near to Parking area
Food tastes are comparatively better
Few vendors are a little bit pricy
Areas around as good for photography
It has a pharmacy in the basement.
5) Oasis Food Court: One of the favorite food courts in Infosys Mysore Campus
Overview
Oasis food court will always be a favorite food court of employees. This food courts and its surrounding witness bond creation and gives rise to the birth of friendship and love.
Mostly, trainees, you will be eating here two times in a day mostly. Generally, most of the trainees prefer breakfast and dinner here.
Oasis food court is located near hostels/ECC rooms. This food court is surrounded by ECC.
I had my first dinner meal here on the first day in Infosys Mysore Campus.
Food facilities
This FC also has a wide verity of vendors hence a wide verity of food.
You will get coolpoint, CCD, hatti kappi tea/coffee, Dominos pizzas, Chinese food and meals here.
Meals in the dinner are a very common item here. You have to purchase coupon first which has it own bigger line in peek hrs.
This is a comparatively small food court but a very functional one. Oasis FC is the multilevel food court. Generally, people celebrate birthday parties here.
In addition to food, there is a small store for purchasing daily basis things such as books, pens, soap, handwash, chocolates, and other common essentials.
The live counter of the oasis food court witnesses one of the longest queues. The live counter includes making food instantly like parathas, dosa, etc.
Please note that in lunchtime this food court doesn't operate.
After Dinner dilemma = Bond making machine
Now lets come to dinner time and afterward.
Dinner generally starts at 7 PM and lasts till 10.30 PM. Veg and non-veg meals are the most popular options here.
After having dinner, trainees tend to spend their time on the footpath near the Oasis food court.
On weekends and on Friday nights, this place gets overwhelmed by people after dinner.
Trainees with their friend circle or loved ones tend to spend a lot of time near this food court.
Apart from the classroom this another place where a new bond gets created. In 2016, a mini militia was one of the most popular things to play here and near Magna FC after lunch.
There are three cycling points near the oasis. One is behind FC, then in front of FC and one on the right side. Hence reaching here is easy although nearest to most ECCs.
You can sit till 11.30 to 12.30 at max. After that, you have to go to your ECC rooms.
Additional info
People often talk about ECC 72 as hunted ECC. Well that ECC is built very close to Oasis food court.
Behind Oasis food court there is one beautiful pond
You will get one of the fasted cellular internet speed. [teseted in 2020]
At the backside of the food court, there was a small shop. There are a few benches where you can go and sit on. This is a bit isolated place.
Overall, the Oasis food court is one of the best food courts in Infosys Mysore Campus.
Highlights:
Close to ECC
Various food vendors
Prices are comparatively normal
Very functional FC with cycle points, store and nearby areas plus the environment
Best place to hang out with friends after having dinner.
This FC and its nearby place definitely creates a new bond between people.. Don't believe? Just try it.. #BondMakingMachine
6) Maitri Food Court
As per trainees, the Maitri food court is one of the best food courts in terms of food taste. This food court is located away from main ECC buildings but near to 4 floory ECCs buildings.
This food court is at 10-15 minutes walking distance from Oasis food court.
Generally, visitors with accommodation prefer to come here for breakfast. I had my breakfast two days here at Maitri with my father.
Maitri food court is surrounded by one tree and greenery. Doing photography nearby Maitri is also a good option.
You won't see much crowd here, but the moderate crowd at dinner time.
This FC is also moderately bigger in size and fully open from one end. It has a cycle parking area nearby.
After dinner couple or super close friends tend to spend there time near to this FC.
Highlights:
Known among trainees for its good taste
Far from main ECC buildings
Comparatively less crowd
Peaceful surrounding and photo-friendly
Go FC for visitors with accommodation
7) Vista Food Court
Vista Food court is built far deeper inside the campus. It is very far away from the main ECC buildings. Way back in 2016, this food court was not operational.
Nowadays, this food court became operational. There is a restriction on this food court as only ICICI folks can eat here. They need to show ID cards before entering to this FC.
It is near guest houses too which are built for visitors. Alternatively, it is surrounded by INFOSYS building where each letter represents one building in that shape.
Unlike other food courts, No info present about food quality and food options. I went inside to take water and saw very fewer vendors. Also, I have observed that general meals are the primary option in this FC.
This FC looks very incredible. The whole food court is surrounded by trees and plants. It feels like this FC is bounded with nature well.
The Vista food court(FC) is one of the most underlooked food courts in Infosys Mysore campus.
Highlights
Restricted to ICICI employees
Focused on basic meals
It is near to building word INFOSYS
Decorated with plants and trees #boundedWithNature
Nearby areas are good for photography
8) Amoeba Food Court
Amoeba food court is often called as boys FC. The primary reason is this FC surrounded by boys ECC.
Not only now but also way back in 2016 this FC was not operational. Recently in 2020 as well I saw this FC was closed.
No information about food facilities or food operations.
Although this is uniquely built and quite larger FC.
Highlights
Not operational
Near to boys ECC
Uniquely built food court
9) Multiplex Food Court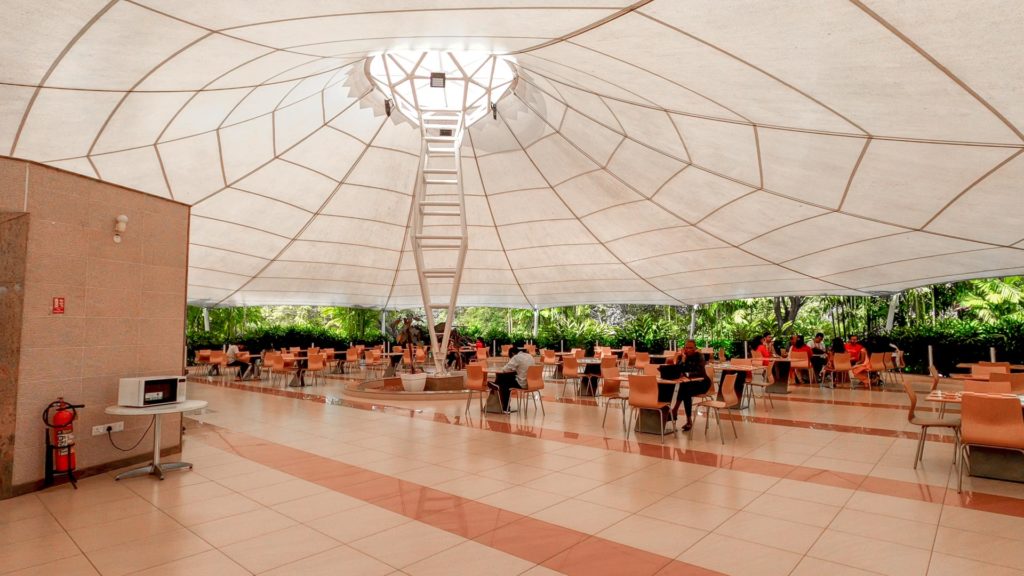 The multiplex food court is built near Multiplex which is located in the center of Infosys Mysore campus. Multiple FC is known as the hub of fast food in the Infosys Mysore campus.
Here, I had my first ever bite of food in Infosys Mysore campus.
This FC is comparatively smaller FC as it people are very occasional here.
Generally, the surge in number can be seen at weekends here. When any screening goes on at weekends trainees prefer to come here for some snacks before or after a movie.
For weekend visitors it is one of the relaxing points. Generally, visitors tend to spend quite a bit of time in RCC. After then they prefer to come here at Multiplex food court
Although, You will see mostly fast food is getting served here.
Bread, cakes, french fries, burger, milkshakes, juices these are the common selling items.
Due to the lower height of the roof that too with light-diffusing elements used on the roof, it becomes hot inside this food court.
Without a doubt, Areas around multiplex food court are a little bit catchy.
RCC, cycle parking point, Multiplex and origami building all are attached to this food court. This FC is truly a snacks hub and is the epicenter of Infosys Mysore DC.
The multiplex food court is second priciest food courts in Infosys Mysore Campus.
Highlights:
Snack hub
At the center of Infosys Mysore campus
Generally, witness surge in people on weekends.
Visitors friendly FC
Costs comparatively higher
10) Gazeebo Food Court
Gazeebo food court has its own taste. Built behind ILP building near GEC 2, this FC provides an authentic and wide verity of south Indian snacks/breakfast items
Uniquely, The term "Gazeebo ki idli" is the most famous quote for any food court of the Infosys Mysore DC. A very wide verity of idly and dosa along with hatti kappi tea/coffee will make your day.
Prices are considered normal. Additionally, the quality of food you will get is quite a deal for you.
This FC runs at very specific times with limited stocks. If you will ever go to Infosys Mysore campus, make sure to come to Gazeebo and consider eating anything.
Highlights
One of the best FC for idly dosa or for south Indian food in campus
Well located near to classroom
Food prices are normal
Runs a very specific time of days
Less crowded
Hidden GEM
11) Floating Restaurant: One of the Expensive food courts in Infosys Mysore Campus
Last but not least, the Floating Restaurant. It is rumored that floating restaurant is for richer guys of the Infosys Mysore campus.
Why? What is so special about the Floating restaurant? What is the food cost of floating FC?
Infosys did one thing right i.e. floating restaurant. Eating in FC's is okay but what about special occasions. Having lunch and dinner inside the campus on FC's is very normal on special days.
Hence Floating comes into the picture.
Of course, Floating FC is the inhouse premium restaurant built for employees, trainees, and visitors.
This is one of the best food courts/restaurants of the Infosys Mysore campus. You will feel diverted luxury as compared to other food courts in Infosys Mysore campus.
The floating restaurant is based on the buffet.
Why the floating name?
The whole restaurant is surrounded by a circular fish pond. Not only this fish pond has water but it has special fishes in it.
Breakfast and Dinners are the specialties in a floating restaurant.
What about the prices of eating here at floating FC?
When I was getting the training I have been told that eating in floating costs 1250 per plate. Hence me and my friends I decided to eat in floating on the last day at Infosys Mysore campus.
Due to the sudden exit of our batch, it never became possible to have food in the floating restaurant.
Not until 2020, when I again visited with my father, and finally ate at a floating restaurant. Firstly we reached there at 9.15 pm, and also I forgot to bring my DSLR batteries.
Closing time was 9.30 PM which was extended to 9.45 due to us. But I was not able to capture snaps as I do quite often.
Prices in floating
Now, what about prices. How much I paid in a floating restaurant.
You have to pay 100rs per plate for unlimited breakfast. Whereas 350 rs for dinner. It was as low as that.
For 3 years I have been thinking about why we didn't go and asked them earlier. At that time we might have eaten with all our frnd and group.
But anyway checklist completed, but with one catch.
Let me tell you a secret.. food taste was very average. at least veg which I ate on Saturday.
Finally last words, eating goes premium in a floating restaurant. Additionally, don't forget to go on time, and if having DSLR then remember bringing batteries with you.
Highlights:
Termed as Most beautiful food courts in Infosys Mysore campus
Comparatively most expensive food court
best food court in Infosys campus for photography
Average food taste
100rs for breakfast and 350rs for dinner
Obviously, Must go here for one time experience.
Put this FC in your checklist while visiting Infosys Mysore campus
12) Common things in all food courts in Infosys Mysore
Operational overview
Please note that operational timing always varies. Additionally, you will also get mailers of which food court will be operational on some specific days.
But in general, the idea of making so many food courts was accessibility. According to your estimated position on campus, your nearby food courts will be always operational.
For example, the FCs according to time.
Dinner time – Near ECC food courts
Lunchtime – Near classroom food courts.. and near ECC food courts on weekends
Breakfast – Near classrooms and ECCs
Snacks – Near classrooms FC's (closed on weekends)
Special occasion FC's
Your actions in the food court
For purchasing food in any FC you have to take coupons in the counter
You have to form a queue and obey it while collecting food
Especially self-service is implemented in all of FC's. This decision was taken to reduce the workfoce. You have to take your food on your own and have to drop it in the plate drop area without fail
Importantly, Don't leave your glass, plates behind on table.
Clearly, Try to not waste food.
All the food courts have big handwash areas and hand dry machines.
Likewise, You will get filtered water. Hot and cool
While drinking water uses new glass and drop it at the same time.
Obviously, If you feel rush at any specific time make sure to use other FC's or plan to come at different timings.
Didn't you like food? Make sure to write a complaint about it in the complaint book.
Finally, eat healthily and live healthy in Infosys Mysore campus
Give thanks to all workers, food committee and all the food courts of Mysore Dc.
Finally, this was all about food courts in the Infosys Mysore campus. I tried to cover the basics and food facilities of all the food courts. also which food court is best and what is the specialty of that food court.
Know more about food management in Infosys Mysore campus
Food facilities in Infosys Mysore campus
In addition, I am linking to a video for your reference.. you can see food quality and visuals in this video.
Food facility and food court in Infosys Mysore campus
13) Frequently asked questions (FAQ's) about food courts in Infosys Mysore campus.
Question 1: Do I have to pay for food In Infosys Mysore campus
Answer – Yes, You have to pay for food In Infosys Mysore Campus. There are multiple ways you can pay.
Credit card
PayTM
UPI Method
Infosys Smart Card
Sooner (Purpule App – book online food in FC)
Cash
On the other hand, For any payment method in return, you will get a token. Sometimes, you will get money in the form of the token as a change.
Question 2- How much I need to spend on food per month in Infosys Mysore Campus
Answer: Generally, if you eat three times a day and weekend foods then you will need the lowest 3500.
Moreover, On Average daily, you are likely to spend 150 rupees. 150 Rupees if you are above average food combination. 50rs 3 times a day.
Some trainees are likely to go as high as 6k.
Question 3: Will food court is operational in night time.
Answer: Best of all, Fiest food remain operational 24*7. Additionally, there is one small FC in some SDB. Although I am having very less idea about it.
Ultimately, this was all about food courts in Infosys Mysore. Obviously, if you are having doubts, do let know down in the comments section.
See you all in next post. Peace.
Infosys Mysore Food court App
You can user perpule app to order food online in Infosys mysore Campus. Download this app from app store or play store. Its available for both IOS and android.
Steps for ordering food from Infosys mysore food court app–
Open the app and enable the location/GPS.
Nearest food court will be selected automatically
Select the desired food court
App will show all the available food vendors. Select any food vendor
Select any food item and select quantity and click on pay now
Various payment options are available but I would recommend going with perpule wallet. This will reduce food order time as you don't have to deal with payment gateway every time you order food.
Popular Querries
Is somking allowed in the Infosys company in Mysore
Is pen drive allowed in the Infosys Mysore Campus
Can I bring laptop, is laptop allowed in Mysore Infosys campus
Tags: Arena, FC, Fiesta, Floating, Food court, Food Facilities, Infosys mysore campus, Magna, Maitri FC